Security Advisory: Beware of Impersonation and Phishing Scams!
iFAST Corp is committed to the prevention of scams and frauds to safeguard our investors' online privacy and safety. It has come to the company's attention that there are scammers who are impersonating as iFAST and/or our subsidiary companies, or may try to obtain the information of investors and lure them into signing up for investment schemes not offered by the company through fraudulent calls, text messages, email, websites and mobile applications illegally using the iFAST brand and logos.

Samples of fraudulent website/mobile app NOT operated by iFAST: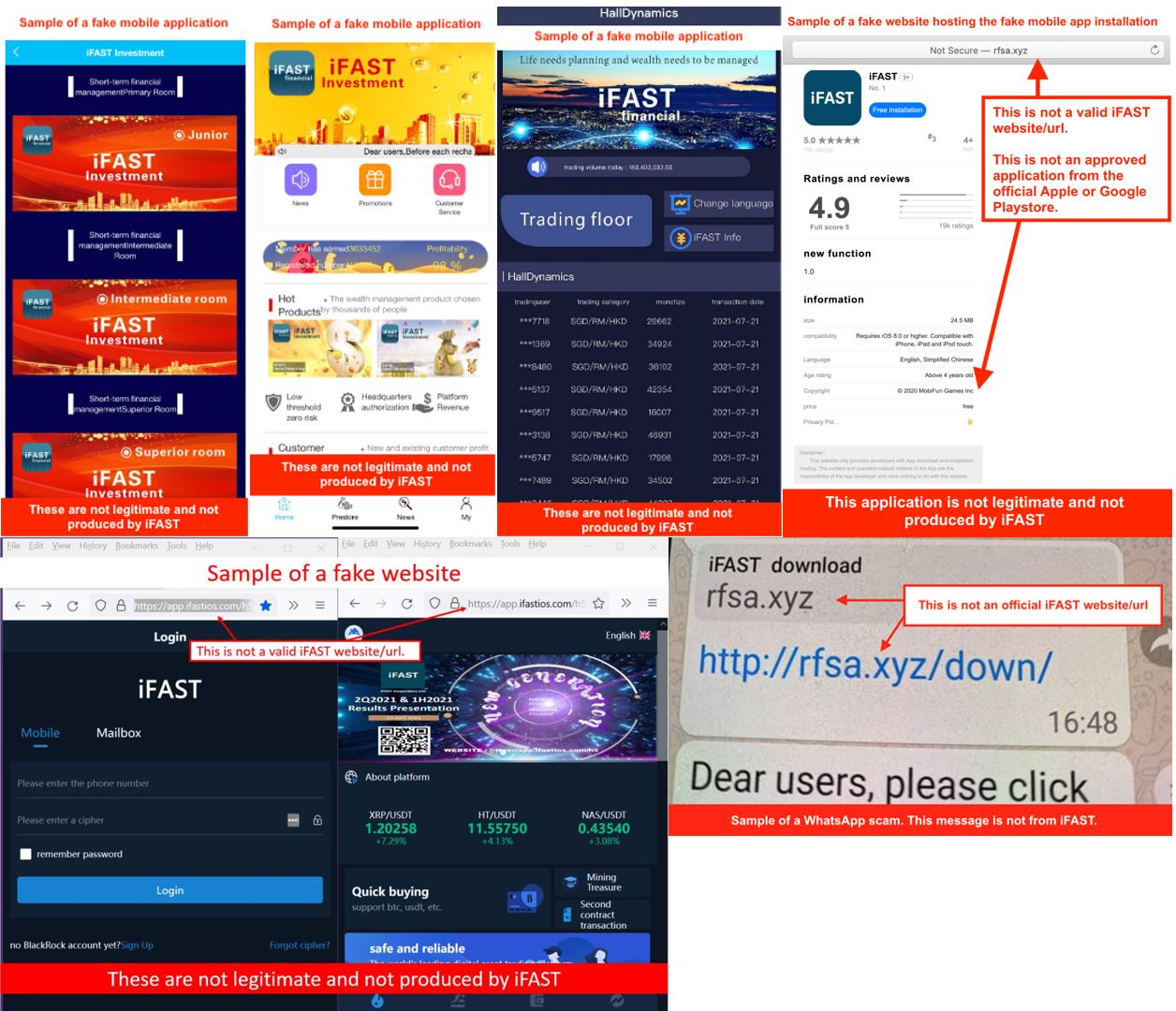 We wish to remind investors to carefully scrutinise and exercise caution when approached with investment opportunities that claim to be from iFAST. It is important to note that all investment products are subjected to market risks, iFAST and our licenced representatives do not promise any kind of returns on investments. If an investment offer sounds too good to be true, it usually is not authentic. iFAST currently distributes unit trusts, stocks and ETFs, bonds, managed portfolios and insurance products (please refer to our websites for more information). Any other products and services sold or promoted by individuals who claim to be from iFAST are investment scams.
You also should note that neither iFAST Corp nor any of our subsidiaries would request for your user ID, password or OTP over the phone, email, LiveChat or SMS. These information are confidential and should not be shared with anyone.
In addition, all investment payments should only be made to our official bank accounts. No payments whether cash, online transfer, or cheques should be made to any advisers' or sales representatives' personal bank accounts. Investors are also encouraged to verify the status of individuals or companies offering investing opportunities.
Everyone has a part to play in being vigilant when receiving or dealing with suspicious and unverified calls, messages, or persons. Here are some articles published by our B2C division, FSMOne.com, as part of our constant effort in educating investors on investment scams:
Spot investment scams; Stop investment scams https://secure.fundsupermart.com/fsm/article/view/rcms208880/spot-investment-scams-stop-investment-scams
Spot investment scams; Stop investment scams - Pump and Dump? Jump Away! https://secure.fundsupermart.com/fsm/article/view/rcms213900/spot-investment-scams-stop-investment-scams-pump-and-dump-jump-away
Spot the Scams, Stop the Scams: Dos, Don'ts and Hows When Dealing with Scams https://secure.fundsupermart.com/fsm/article/view/rcms227201/spot-the-scams-stop-the-scams-dos-don-ts-and-hows-when-dealing-with-scams
As indicated in the advisories issued by the authorities, if you have any scams related information, you can call the Police hotline (1800-255-0000), or proceed to www.police.gov.sg/iwitness to provide such information.
For advice on scams, you can contact the anti-scam hotline at 1800-722-6688, or visit www.scamalert.sg for more information.
If in doubt, please contact us to verify the message with our team. You can reach out to us at our official channels below:
Singapore
iFAST Central
Official Website: https://secure.ifastnetwork.com
Customer service hotline: +65 6557 2000
Email Address: ifastadmin@ifastfinancial.com
Official App: https://secure.ifastfinancial.com.hk/b2b-prelogin/mobile-app
iFAST Global Markets
Official Website: https://www.ifastgm.com.sg/
Customer service hotline: +65 6439 8001
Email Address: enquiries@ifastgm.com
Official App: iOS / Android / Huawei
FSMOne.com
Official Website: https://secure.fundsupermart.com/fsm/home
Customer service hotline: +65 6557 2853
Email Address: clienthelp@fundsupermart.com
Official App: https://secure.fundsupermart.com/fsm/new-to-fsm/fsm-mobile-app
Hong Kong
iFAST Central
Official Website: https://secure.ifastfinancial.com.hk/
Customer service hotline: +852 3766 4399
Email Address: ifastadmin.hk@ifastfinancial.com
Official App: https://secure.ifastfinancial.com.hk/b2b-prelogin/mobile-app
iFAST Global Markets
Official Website: http://www.ifastgm.com.hk/
Customer service hotline: +852 3766 4334
Email Address: service@ifastgm.com.hk
FSMOne.com
Official Website: https://secure.fundsupermart.com.hk/fsm/home
Customer service hotline: +852 3766 4321
Email Address: clienthelp.hk@fundsupermart.com
Official App: https://secure.fundsupermart.com.hk/fsm/new-to-fsm/fsm-mobile-app
Malaysia
iFAST Capital / iFAST Global Markets
Official Website: https://www.ifastcapital.com.my/ / https://www.ifastgm.com.my/
Customer service hotline: +603-2149 0660
Email Address: ifastadmin.my@ifastfinancial.com
FSMOne.com
Official Website: https://www.fsmone.com.my/
Customer service hotline: 03-2149-0567 (Kuala Lumpur, Petaling Jaya & Johor Bahru, Johor) / 04-640-1567 (Penang) 088-335-060 / (Kota Kinabalu, Sabah)
China
Official Website: https://www.ifastps.com.cn
Customer service hotline: 400-684-0500
WeChat Account微信公众号: 奕丰金融服务
WeChat Mini Program微信小程序: 奕丰基金
India
iFAST Financial
Official Website: https://corp.ifastfinancial.co.in/
Customer service hotline: 1800 123 3278
Email Address: assist@ifastfinancial.com
Fundsupermart.com
Official Website: https://www.fundsupermart.co.in/
Customer service hotline: 1800 123 3278
Email Address: clienthelp.in@fundsupermart.com