Activities & Recognitions
iFAST Corp has always been committed to taking an active role in supporting the community and protecting the environment, and has established "Cultivating Financial Literacy", "Charity through Sports", "Caring for Community", and "Conserving the Environment" as the four pillars of our Corporate Social Responsibility (CSR) initiatives.
Cultivating Financial Literacy
Guided by our mission statement "To help investors around the world invest globally and profitably", we adopt various initiatives to promote financial literacy among our customers, employees, and the community. We believe that financial knowledge and transparency in information could empower each individual with the tools to make more informed investment decisions.
Events & Webinars
Other than providing dedicated research and contents to keep investors informed of the latest market happenings, iFAST Corp also hold various events throughout the year to better engage our customers and the public.

Our flagship event "What and Where to Invest" ("WAWTI") is typically held in Singapore, Malaysia and Hong Kong at the beginning of the year to shed light on the outlook of the global markets and various asset classes. During these events, investors not only can hear investment insights from our in-house research analysts and industry experts from our fund house partners, but also can interact face-to-face with these professionals to get their investment queries answered in pre-COVID-19 times. In 2020, over 3,700 investors attended the January flagship events held in the different markets that we operate in.

As COVID-19 started to spread across the globe after January, forcing governments to introduce social distancing measures to contain the pandemic, the different teams across iFAST Corp quickly reacted to this by adapting to the new normal and shifting various investment seminars, workshops and events online.

A total of more than 300 webinars and smaller scale seminars (before COVID-19) were held across both our Group's B2B and B2C divisions in Singapore, Hong Kong, Malaysia and China throughout 2020.p>
Collaborations with Industry Partners
Apart from in-house events and workshops, iFAST Corp has also joined forces with media and industry partners to promote financial literacy to the investor community across the five markets it operates in. In 2020, with the ongoing COVID-19 situation, we continued to participate in 8 different virtual investment events organised by external partners, including SGX, Lianhe Zaobao, InvestingNote and other institutions in Singapore.
Promoting Financial Literacy Internally
Internally, we also hope to equip our employees with the necessary knowledge and skills to plan for their own financial future. We have introduced the "iFAST Academy", where we invite our research analysts and other employees who have a passion for sharing financial tips, to speak to our employees on various financial topics. We have in place an "Employee Investment Scheme" that is created to give an extra booster to employees who wish to invest regularly.
Promoting Financial Literacy to Undergraduates
In 2020, iFAST Singapore sponsored the Eurasia Asset Management Challenge ("EAMC") organised by NTU Investment Interactive Club ("NTU-IIC") from March to May. The challenge aims to improve and sharpen investment knowledge and skills among undergraduates by exposing the participants to real-life Asset Management situations in financial institutions and providing them with a platform to network with industry leaders and like-minded peers.

Due to the COVID-19 measures, the participants learnt more about portfolio management through webcast recordings where our Senior Macro Analyst shared his insights on the various aspects of managing a portfolio, including asset allocation, diversification and rebalancing.

Subsequently, the final five teams presented their asset management proposals to a panel of three judges, including two of our Senior Macro Analysts from the Research and Portfolio Management Team, who also shared their insight and experience in portfolio management during the session with all the finalists.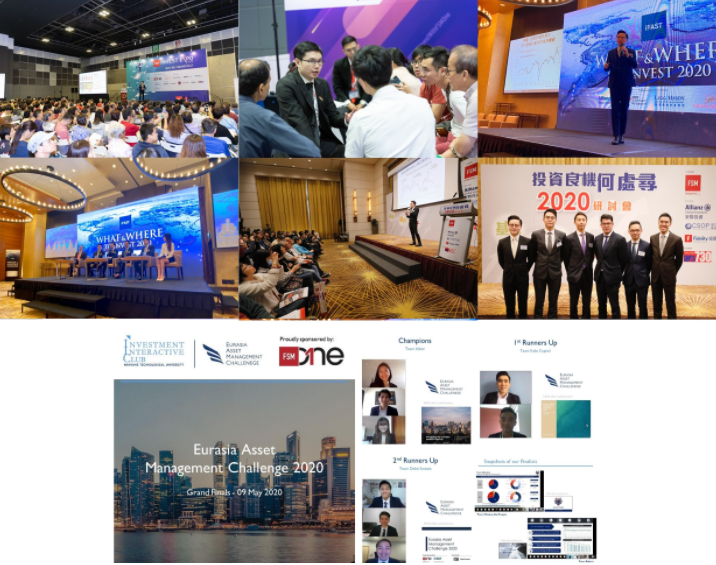 (Some of the photos featured were taken before Covid-19 restrictions were imposed)
Charity through Sports
"Taking part in sports helped me learn the value of dedication and perseverance for a certain cause. In sports, I learned that while a target may look unattainable at first, upon closer analysis, with determination and hard work, it becomes achievable." Mr Lim Chung Chun.

This quote from our CEO Mr Lim Chung Chun sums up the reason why we have been supportive of our employees' active participation in sports and we have chosen to marry sports with charity initiatives.
Clock 20KM for iFAST
Year 2020 marked iFAST Corp's 20th anniversary. While the world was fighting against COVID-19, we also hoped to celebrate this great milestone in a meaningful way. To encourage our employees to stay healthy through exercising while also doing our part to care for the needy families in our community whose livelihoods may be more severely impacted by the pandemic, iFAST Corp organized our very own Group-level virtual charity run "Clock 20km for iFAST".

The event sought to support the "Joy in Every Bundle" campaign by The Food Bank Singapore, a charity dedicated to reducing food insecurity in Singapore. During the event, when a staff clocks 20km , iFAST Corp would donate two food bundles to The Food Bank Singapore, and we eventually raised 200 food bundles for this food charity.

Subsequently, staff volunteers were recruited to help pack and distribute the 200 food bundles to the beneficiaries. More than 25 volunteers, consisting of employees and their family members, took time off their schedule to help pack the food bundles at the Food Bank's warehouse, and distribute the food bundles to beneficiaries supported by Thye Hua Kwan Senior Activity Centre.
SGX Bull Run 2020
In addition, iFAST Corp also took part in a charity sports event "SGX Bull Charge Virtual Charity Run 2020" held by SGX from 30 Oct to 13 Nov 2020. The event saw active participation from over 200 regional iFAST employees. To encourage and motivate them to literally run/walk the extra mile for a good cause, prizes were also awarded to individuals and top teams who have clocked the longest distance, and the majority of winning teams and individuals also took the initiative to donate their prizes to their choice of charity organisations.

At the end of the Virtual Run, the entire iFAST Corp contingent clocked a total of close to 15,000 km of distance to clinch one of the top spots in corporate category of this event.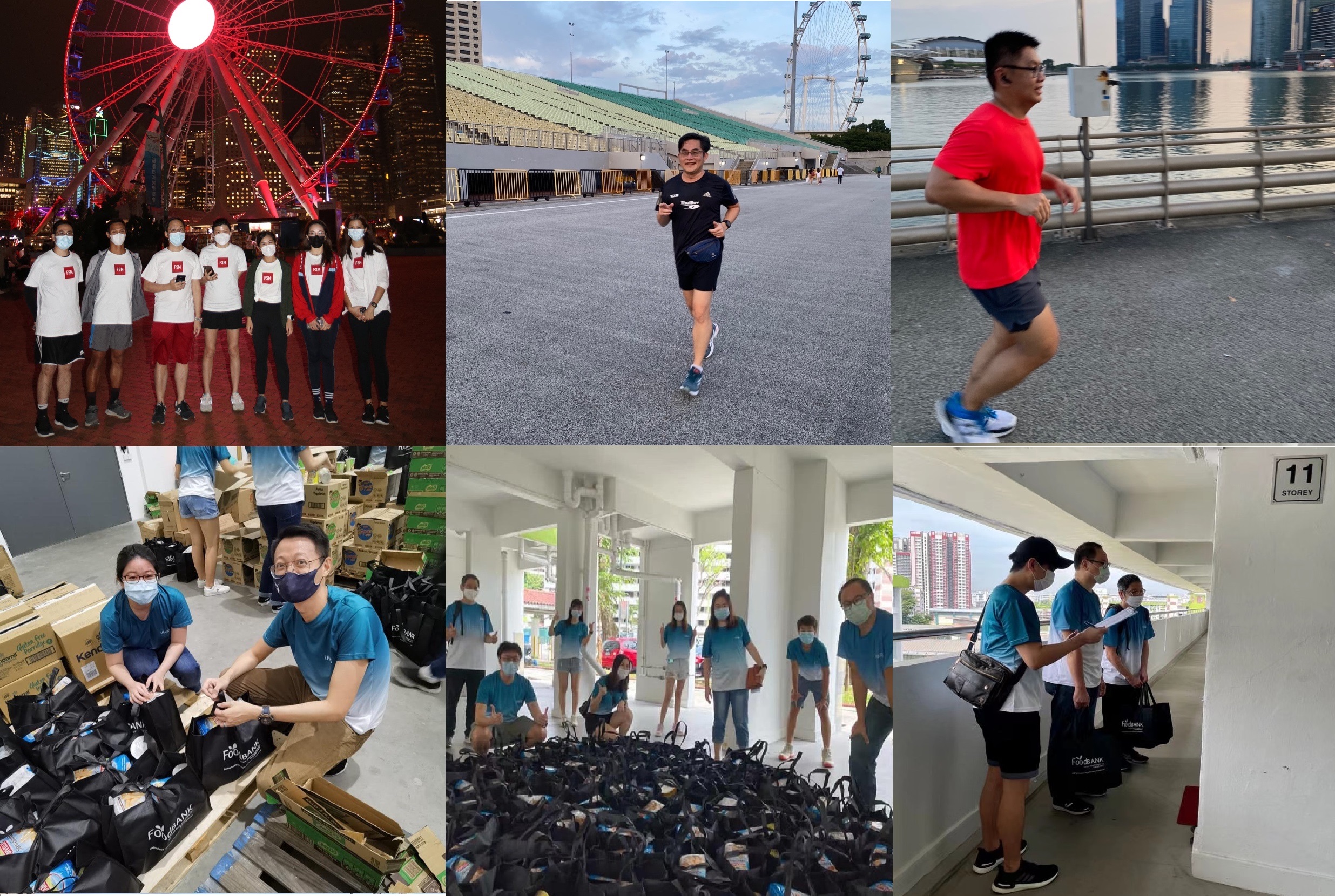 (Some of the photos featured were taken before Covid-19 restrictions were imposed)
Caring for Community
Volunteering Activities
In 2020, iFAST Singapore organised three volunteering sessions at Food from the Heart ("FFTH"), a non-profit organisation that strives to reach out to the less fortunate and brighten their lives by alleviating hunger through its food distribution programme.

The Company first organised food packing sessions at FFTH in 2019. In 2020, after reading on news reports that food charities were hit by COVID-19 fears and faced a sharp drop in volunteers, the Company reached out to FFTH and employees responded to volunteer appeals where 10 employee volunteers signed up for a food packing and sorting session in late February. At the end of the year, two more volunteering sessions were organised at FFTH, where another group of more than 15 employee volunteers participated.

A total of 170 volunteer hours were clocked in 2020. iFAST Corp remains committed to supporting charity and volunteering events, and plans to hold more of such events in the upcoming years, and targets to increase the volunteering hours of employees gradually as the Company continues to support the less fortunate in the society.
Cash Sponsorship
On top of participating in SGX Bull Run 2020 covered in the Charity through Sports section, the Company also topped up cash donations to support this meaningful event, where all charity funds raised would be channelled towards programmes of the following five beneficiaries: AWWA Ltd, Autism Association (Singapore), Fei Yue Community Services, HCSA Community Services and Shared Services for Charities.

In addition, iFAST Corp also provided cash donations in Sep 2020 to a Food Voucher Programme initiated by Glyph Asia, a social enterprise that supports kids and youths from lower income households or challenging family environments. The Company has also responded to donation appeals from Children's Cancer Foundation, who had been unable to conduct their flagship public outreach event due to the pandemic.

(Some of the photos featured were taken before Covid-19 restrictions were imposed)
Conserving the Environment
Waterway Clean-up Programme
As part of an awareness campaign on water usage, iFAST Corp organised a volunteering session where 18 volunteers, consisting of employees and their family members, participated in the Waterway Clean-up Programme at Kallang Riverside Park. The session started off with an introduction on water conservation in Singapore, while the subsequent 1.5 hours of litter-picking session saw our volunteers gather a total of 74kg of litters, including plastic bags, bottles, cans, used masks, fishing lines and nets, cigarette butts, and even a hairdryer, along the shore and waters of Kallang River.

In other environment related initiatives, we have continued to set up recycling stations within the office premises in Singapore. Messages and reminders were also sent out to staff on how they could contribute to the recycling efforts undertaken by the Company.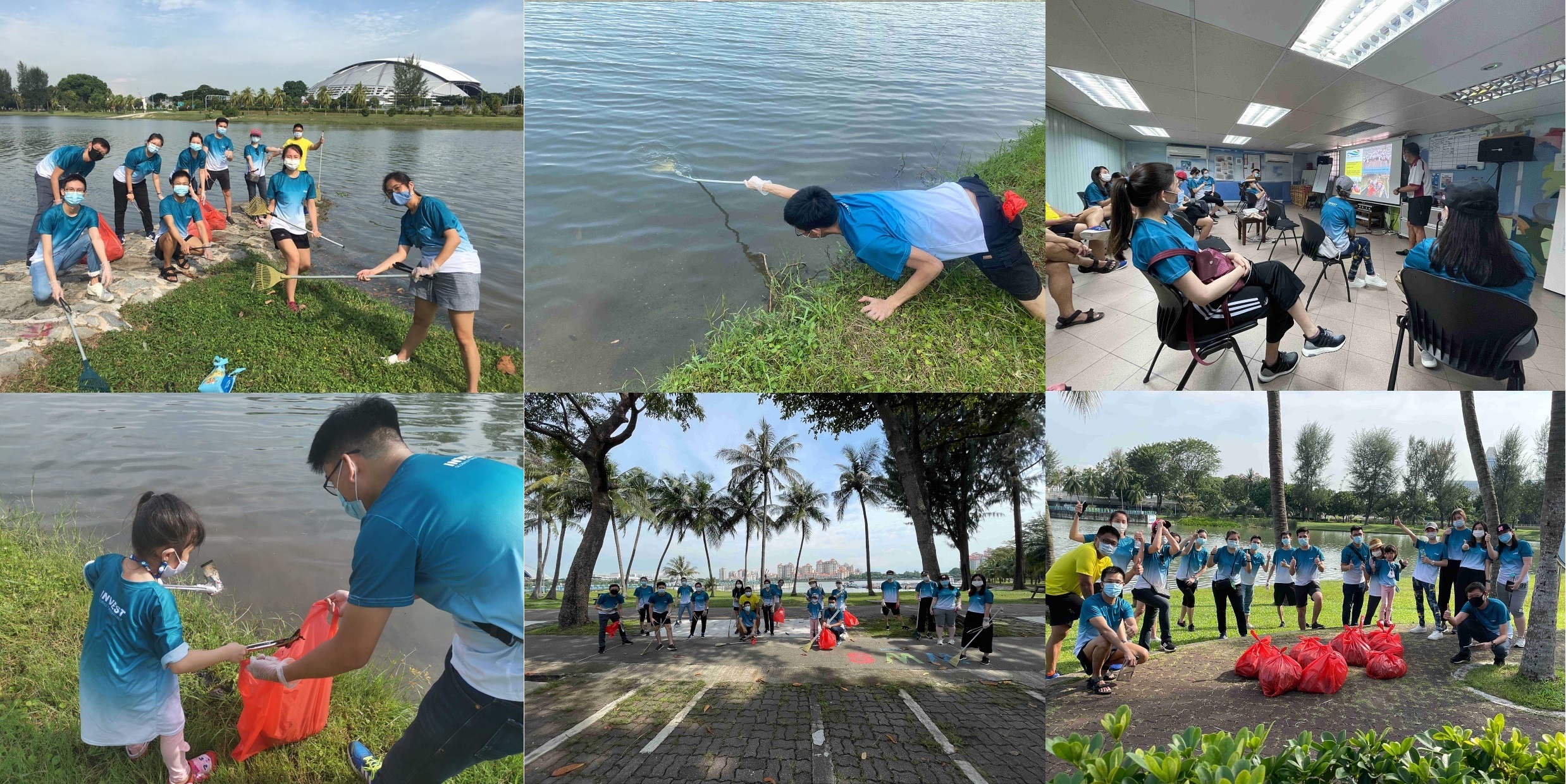 (Some of the photos featured were taken before Covid-19 restrictions were imposed)