Sustainability at iFAST
Here at iFAST, we are committed to integrating the principles of sustainability into both the business operations and future corporate strategies of the Company, to ensure the long-term growth of the Company.
Sustainability Report
iFAST Corp's Sustainability Report is prepared in accordance with the Global Reporting Initiatives ("GRI") Standards guidelines for sustainability reporting. The reporting scope is mainly focused on the Company's Singapore operations where the Company is headquartered and founded.
Through this report, the Company seeks to track, evaluate and review our governance, social, economic and environmental performance and impact with the aim of improving current practices.

Charity Through Sports
Making a difference to the community whilst encouraging healthy living for employees

Cultivating Financial Literacy
Promoting financial literacy among investor community and the general public with our research expertise

Caring for Community
Doing our part to give back to the society through corporate giving, employee volunteering and partnerships

Conserving the Environment
Engaging in responsible and ethical practices and taking pro-active steps to care for our environment
Sustainability Strategy
iFAST Corp's sustainability strategy is based on its three core values: Integrity, Innovation and Transparency, and is guided by its mission 'To help investors around the world invest globally and profitably'.
Sustainability & ESG Focus
A clear recognition of ESG material issues helps the Company identify and develop relevant measures to ensure business sustainability and ESG conformity.
In FY2021, the Company has identified and focused on the following aspects that could impact its Sustainability and ESG standing:
People & Social Responsibilities
Products and Services
Corporate Governance & Regulatory Compliance
Fintech & IT Development.
The Company has also been focused on promoting pricing transparency, independent research, technological innovation and building robust IT systems as we build up a sustainable business model.

iFAST Corp remains committed in its engagement with stakeholders through various channels to better understand and address their ESG-related concerns, while monitoring how the Company's operation has impacted them.
Stakeholder Group
Engagement Goals
Customers

Provide investors with up-to-date information and research as well as create a user-friendly platform that facilitates secure transactions.

Employees

Talent retention, and to ensure company values and new developments are communicated to new and existing employees;
Promote healthy living and help employees kick-start their own investments.

Regulators

Maintain compliance with applicable laws and stipulated guidelines through clear policies and processes.

Product Providers

Ensure the interests of investors, customers and product providers are safeguarded and that the values of external vendors align with that of the Company.

Media

Provide iFAST research teams' views to the investor community at large; ensure proper dissemination of relevant information and clarification of questions pertaining to any events regarding the Company.

Shareholders/Investors/Analysts

Ensure timely disclosure of substantial information relating to share prices and to provide ease of communication with the Company.

NGOs/CSR Partners/ Communities

Give back to society, and enabling customers to do so with their investment gains.
Sustainability Working Group
Responsible for sustainability reporting and monitoring of ESG-related issues, including constructing a sustainability framework and supporting the reporting process.
Led by the Chief Sustainability Officer, and consists of members from the Corporate Communications department, with members from the Senior Management team providing guidance and insight.
Determining Material ESG Issues
The Sustainability Working Group gathers feedback, expectations, and concerns from stakeholders through various existing engagement channels, before evaluating the materiality of their issues and eventually identifying the relevant data to track for some of the material ESG issues.
Material ESG issues identified during the process will be reviewed to determine the significance of impact and to evaluate if current ESG-related initiatives are sufficient or if further actions are required.
Subsequently, material ESG factors are presented to the Senior Management and the Board for evaluation, and if necessary, advice and guidance will be provided with the aim of improving current practices.
ESG Themes
The material ESG issues of iFAST Corp are categorized into five main themes across the Governance, Social/Economic, and Social/Environmental spectrum, as seen in the chart below.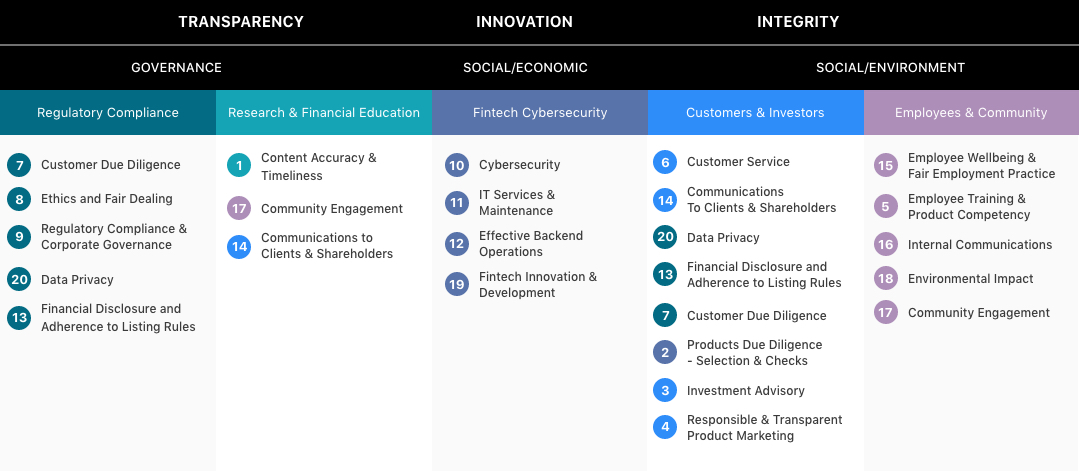 Regulatory Compliance
The financial industry is rapidly evolving, and current rules and guidelines require constant reviews to keep up with the ever-changing demands of the industry and the regulatory environment. iFAST Corp is committed to stepping up its effort to ensure the corresponding regulations are duly complied with, in order to achieve long term sustainable growth for the Company.

Research & Financial Education
Guided by the mission statement "to help investors around the world invest globally and profitably", investment related research and content have been made publicly available for customers as the Company believes investor education and financial knowledge are crucial to investing successfully.

Fintech & Cybersecurity
Powered by in-house IT expertise, iFAST Corp has been able to enhance its products and services as well as various user platforms. It also upholds a high degree of Cybersecurity and IT security of its online platforms to safeguard its stakeholders' interests.
Customers & Investors
iFAST Corp has always been pro-investors since its inception, as investors have always been the core customers of the Company. The numerous measures and initiatives introduced are mainly targeted at delivering value to investors/customers, who will in turn help the Company achieve sustainable growth.

Employees & Community
The Company is committed to cultivating and maximising the potentials of its employees through the various policies that it has put in place to continuously motivate them to achieve greater heights. It is also committed to taking an active role in making a positive impact to the community. This also involves its employees lending a helping hand to the less-well-off in the community via different volunteering activities.